Being at home all day may seem boring, but it is not if you know how to use your time. From San Blas, we propose you these recipes with nuts to get your culinary skills out. Have fun with the children at home and eat!
Los frutos secos ecológicos son un alimento esencial para mantener un estilo de vida saludable. En momentos en los que no podemos salir de casa, debemos cuidar al máximo nuestra alimentación. Por eso te traemos unas sencillas recetas con frutos secos que además de mantener tu línea, ¡serán perfectas para hacer con los peques!
Organic nuts are an essential food to maintain a healthy lifestyle. When we can not leave the house, we must take maximum care of our diet. That is why we bring you some simple recipes with dried fruits which are perfect to make with the children!
Baked apples stuffed with San Blas walnuts
Con esta sencilla receta, los pequeños de la casa podrán comer esa pieza de fruta diaria que tanto les cuesta. Además, es muy sencilla y estás riquísima, ¡casi se habrán olvidado que están comiendo fruta! Solo necesitarás:
With this simple recipe, the children will be able to eat that daily piece of fruit that costs them so much. In addition, it is very simple and it is delicious. You will only need:
3 medium-large apples
50g butter
50 g of brown sugar
2 handfuls of San Blas walnuts
Orange zest
2 tablespoons of honey
285 ml of cream
1 tablespoon of powdered sugar
Cinnamon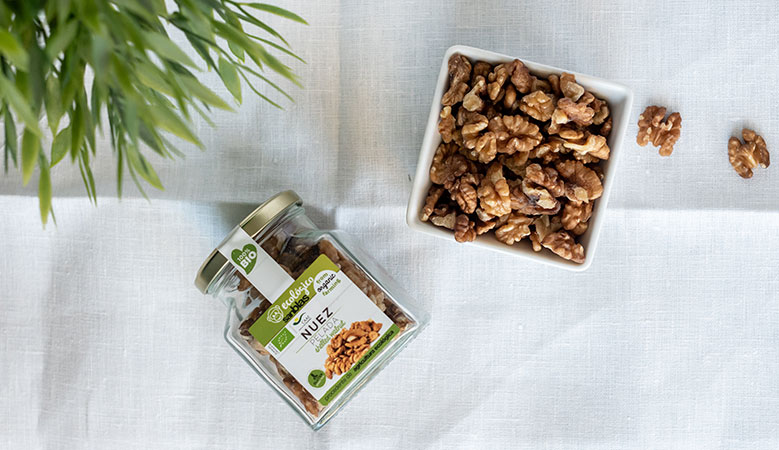 The first thing you will have to do is preheat the oven to 180º. Meanwhile, we remove the center of the apples and put them on a baking tray. Heat the butter, sugar and the handful of San Blas walnuts in a pan. Add the orange zest and stir it until the butter has completely melted and the sugar has dissolved. Be careful not to burn us!
When we have achieved a homogeneous mixture, we pour it in the center of the apples. We sprinkle honey over this mixture to give it that sweet spot. Put the stuffed apples in the preheated oven and leave them for about 20 minutes.
At the same time, we are preparing a delicious sauce with the cream that we had prepared. We mix it with sugar and cinnamon, to give a soft texture to our delicious dessert. We take the apples out of the oven and accompany it with the cream.
San Blas banana and almond magic wands
Banana is one of the favorite fruits for children. And if on top of that we find such original ways for you to enjoy preparing it, you will love it even more! These magic wands are a very fun way to eat fruit with the quality of San Blas organic nuts. You will only need:
Bananas
Chocolate fondant
San Blas almonds
Caramel sauce
Its preparation is very simple. The first step is to peel the bananas, cut them in half and remove the ends. We put them vertically on a plate and we make a hole in the upper part. We chop the San Blas almonds and set them aside for later use.
We melt the chocolate and introduce the bananas, letting the excess drain. We pass the bananas through the chopped almond so that it adheres to the chocolate layer. We place them on parchment paper and let the fondant chocolate solidify. To finish, we put the caramel sauce in a pastry bag and cover the hole we made at the beginning.
We hope you enjoy our recipes with nuts a lot!