We all know nuts and their excellent nutritional properties, but… do we know all their possibilities in the kitchen? Nuts are extremely versatile ingredients, to add a different touch to our salads or as appetizers themselves. We leave you the best recipes with nuts for this summer!
Celery salad with blue cheese, pears, walnuts and raisins.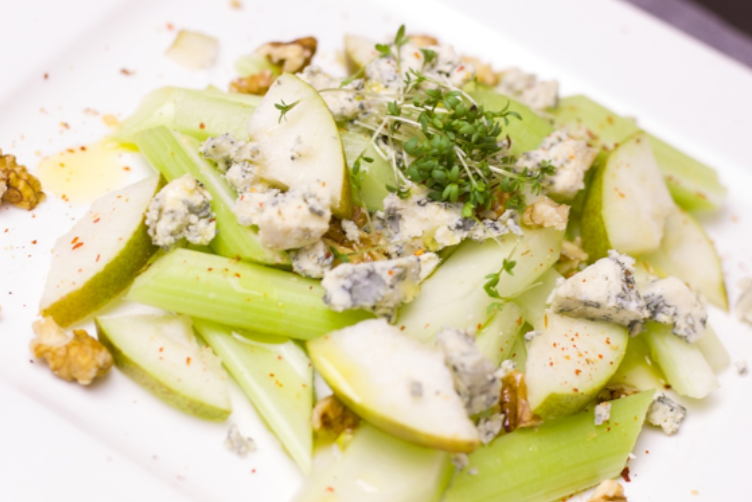 Summer dish par excellence, light and fresh, it provides many nutrients and the combinations can be different. Here we leave one of the most original recipes with an unbeatable flavor.
Ingredients
4 stalks of celery.
200 g of blue cheese
4 pears.
60 g of San Blas walnuts
2 tablespoons of San Blas raisins
2 teaspoons lemon juice
2 tablespoons olive oil
2 tablespoons vinegar
Season to taste
Elaboration
In a salad bowl, mix one third of the cheese with the olive oil, vinegar, cream and pepper. Stir until you get a thick cream to dress.
Wash and peel the pears. Cut them into slices. Wash the celery and cut it into strips. Mix the pears and celery with the raisins and lemon juice.
Crumble the rest of the cheese and add the walnuts.
Add the dressing on top before serving and garnish with the rest of the walnuts and finely chopped celery leaves.
Pistachios pesto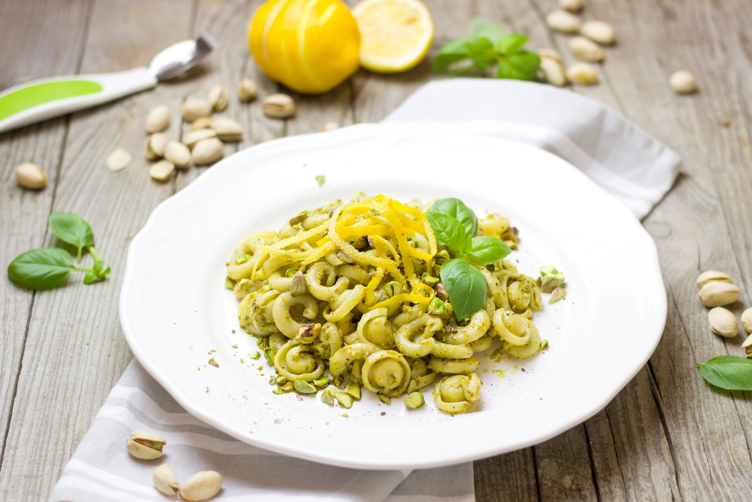 Ingredients
300 g pasta
150 g of basil
150 g of Parmesan cheese
100 g pine nuts San Blas
100 grams peeled and blanched pistachios San Blas
Salt
1 garlic
Elaboration
First, the pasta is cooked according to the manufacturer's instructions, salt and a few drops of oil are added to the water.
We make the pistachio pesto, in a mixing glass add the garlic, basil, pine nuts and pistachios, salt and grated Parmesan cheese. With the blender, the mixture is beaten, emulsifying it with olive oil until the proper consistency is achieved.
We mix the pasta with the pesto and finish with grated cheese on top and a sprig of basil
Chocolate ice cream with almonds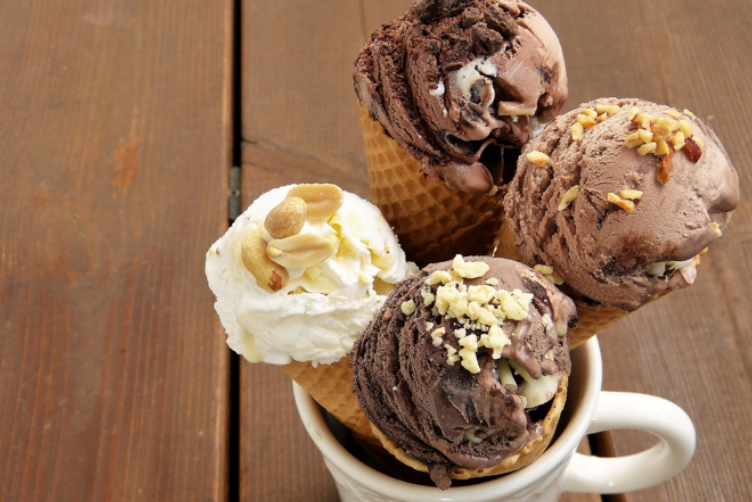 The ice cream has a very special flavor when it is made at home, the truth is that it is very different from the industrial one and even more so when you have high quality nuts such as San Blas nuts that gives it an incredible flavor. In summer more than one child will want to have this chocolate and almond ice cream as a dessert at home. Go ahead and prepare it with this practical recipe.
Ingredients
1 and 1/2 cup milk
7 tablespoons of cream
200 grams chocolate fondant
130 grams brown sugar
3 eggs with whites and yolks separated
1 bag of crispy almond San Blas
Elaboration
In a saucepan, heat the milk and cream. While it boils, chop up the chocolate and add it so that it melts with the liquid.
With a fork, beat the yolks with the sugar and a little of the hot milk.
Then, add the yolks to the saucepan with the milk. Cook the mixture over low heat until the mixture thickens.
Once ready, let it cool down for a few minutes, and store it in the freezer to cool completely.
When the preparation is very cold, add the whites, which have been previously mounted.
Now, take the preparation to the refrigerator for about 30 or 35 minutes.
When you notice that the preparation begins to take consistency, add the crunchy almonds. Stir carefully.
After 35 minutes, pour the ice cream into a container with a lid. And with the help of a scoop, serve it to your liking.
Couscous with raisins and cashews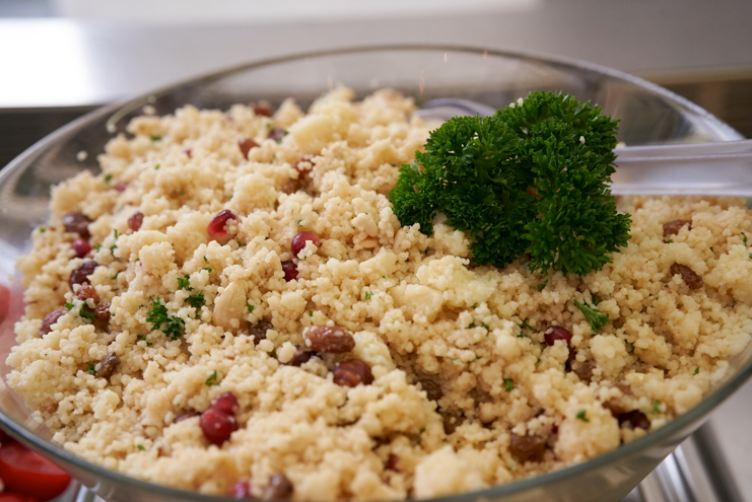 It is an easy dish that we can make in record time. Those days of "I don't know what to do for dinner" can easily be solved if we have some couscous in the pantry.
Ingredients
1 glass of whole wheat couscous
1 and a half glasses of water or vegetable broth
2 large potatoes
2 large carrots
1 handful of raw San Blas cashews
1 handful of San Blas boneless raisins
San Blas roasted sesame
Virgin olive oil
Salt to taste
* Optional (squeezed lemon, ground cumin)
Elaboration
We steam the potato and the carrot. Peeled and cut into small pieces, they take very little time to make, just a few minutes. When they are ready, we reserve.
We arrange the couscous in a flat container so that it is spread out. On it, we pour a glass and a half of water or vegetable broth on top and wait about five or ten minutes for it to grow (we can see it clearly because it is softer). It should not be watery, but hydrated.
We serve some of the couscous, along with part of the vegetables, a handful of raisins, another of cashews and the sesame. Season with a little virgin olive oil and salt to taste. It looks great adding a little lemon and cumin. And ready!
Yogurt with oatmeal, chia, dried cranberries and walnuts.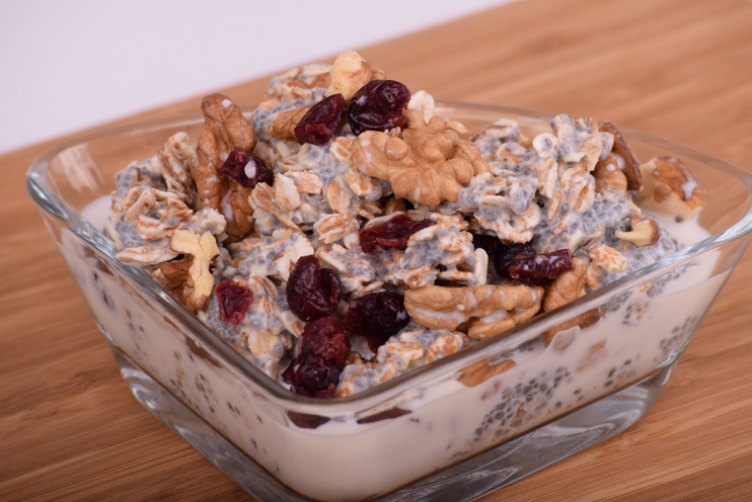 It must be recognized that breakfast is the most important meal of the day. Usually when we skip it, we tend to feel hungrier at lunch and the rest of the day. Without a doubt it is irreplaceable! This recipe is a very light and filling breakfast to face the summer heat.
Ingredients
200 gr of yogurt, flavor of choice
2 tablespoons of San Blas oats
2 tablespoons San Blas dried cranberries
2 tablespoons of San Blas walnuts
2 tablespoons of San Blas chia seeds
Elaboration
Pour the yogurt into a medium bowl and place the fruits, nuts, and chia seeds on top. Serve and enjoy!
So far our freshest recipes so you can enjoy San Blas nuts in an original and tasty way.